Majel M. Russell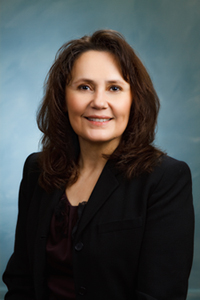 Ms. Majel M. Russell was raised near Lodge Grass on the Crow Indian Reservation in Southeastern Montana and is an enrolled member of the Crow Tribe of Indians. Ms. Russell graduated from the University of Montana School of Law in 1992. Ms. Russell is a founding partner in the law firm and currently practices in numerous areas of law including, representation of Indian Tribes, Indian housing authorities, Indian businesses, school districts and other tribal entities, real estate transactions, agricultural leasing, water law, negotiations with federal and state entities, construction contracts and civil litigation in Federal, State and Tribal Courts.
In 2007 Ms. Russell took a one year leave of absence from Elk River Law Office to serve as Principal Deputy Assistant Secretary - Indian Affairs in Washington, D.C. In that position Ms. Russell gained insightful experience in federal budget priorities, working with existing policies and regulations and strategies to overcome bureaucratic obstacles.
Prior to opening the firm, Ms. Russell was an associate attorney at a law firm in Great Falls, Montana. Ms. Russell provided legal representation for numerous Indian housing authorities, including but not limited to, Fort Belknap Housing Authority, Blackfeet Indian Housing Authority and Crow Tribal Housing Authority. She also represented Indian school districts, private clients in civil litigation, and provided technical assistance, training, and representation for Indian Child Welfare Act cases and issues. Prior to working in Great Falls, Ms. Russell was the Chief Prosecutor for the Confederated Salish and Kootenai Tribes where she prosecuted adult and juvenile offenders and Fish and Game violators.